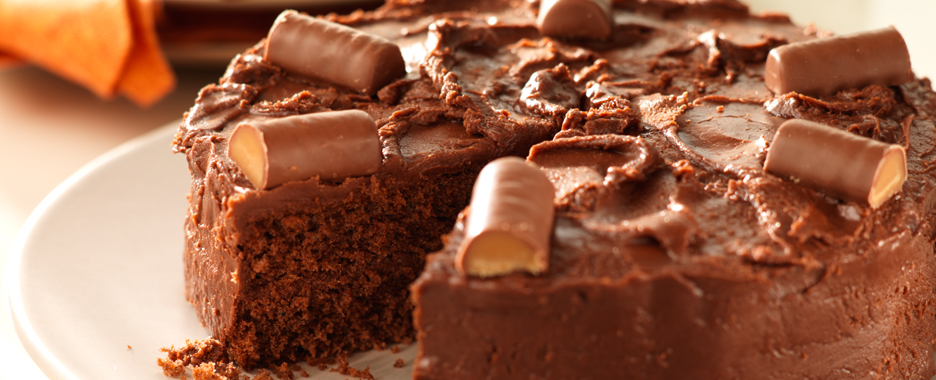 INGREDIENTS

100 g

soft margarine

100 g

light soft brown sugar

2 medium

eggs

100 g

self raising flour

1 tsp

baking powder

2 tbsp

Cadbury Bournville Cocoa

50 g

butter

75 g

Cadbury Bournville

2 tbsp

semi-skimmed milk

225 g

icing sugar

1 tbsp

Cadbury Bournville Cocoa

2

bars of Cadbury Fudge cut into 3 pieces
TIME
PREP TIME 30 min
COOK TIME 60 min
METHOD
1

Preheat the oven to 180 ⁰C, gas mark 4. Grease and line 2 x 18 cm sandwich tins with baking parchment.

2

Place margarine, sugar and eggs into a bowl with the sieved flour, baking powder and cocoa. Add 2 tbsp of hot water and beat well together with an electric hand mixer for 1-2 minutes.

3

Divide evenly between the sandwich tins and bake in the oven for 25-30 minutes until well risen and springy to the touch. Remove from the tins and cool on a wire rack for around 30 minutes.

4

Melt the butter and chocolate with the milk in a bowl over a pan of simmering water. Sieve the icing sugar and cocoa into a bowl and using a wooden spoon, beat in the chocolate mixture along with 1 tbsp hot water. The mixture should be thick enough to spread onto the cake (if not, leave to cool a little).

5

Sandwich the sponges together with a quarter of the icing. Use the remaining icing to cover the sides and top of the cake. Decorate with the pieces of Cadbury Fudge.
17.7%

24.1%

24.5%

13.3%

44.3%

% of your Guideline Daily Amount (GDA). To be enjoyed as part of a healthy, active lifestyle.

TYPICAL VALUES PER SERVING
Treat your inbox
Want to know about all the latest goodies from Cadbury? Sign up and you'll be the first to hear about exclusive offers, new delicious chocolate treats, gifts and more.
Sign up