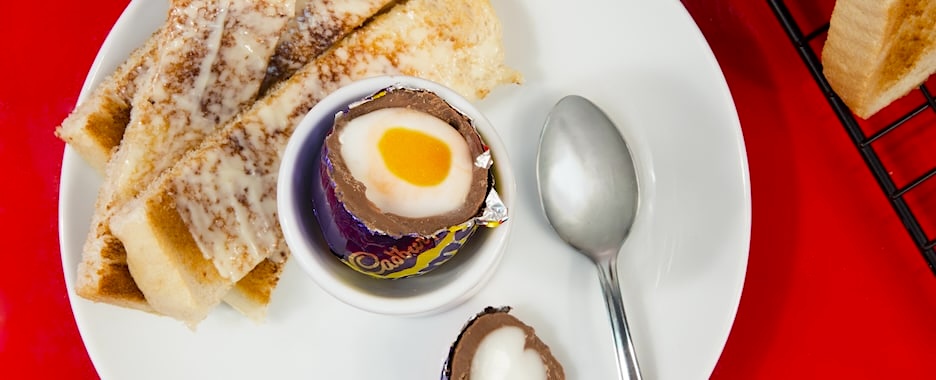 INGREDIENTS

1

Cadbury Creme Egg

1

slice Kingsmill white sliced bread

3 g

Flora light spread
TIME
PREP TIME 10 min
COOK TIME 10 min
METHOD
1

Remove the foil from the egg, being careful not to tear it.

2

Place the foil inside the egg cup logo side upwards. Create a little dip so that the egg can sit in it (but don't press down to the bottom of the egg cup). The foil should overlap the sides of the egg cup as seen below.

3

Cut the Creme Egg to create a lid. Make the cut at the top of the egg, in line with the top of the star marking as seen below. Make sure the knife is clean without goo on before you make the cut as otherwise the knife gets stuck in the egg.DO NOT PUT THE FOIL IN THE MICROWAVE

4

Put the piece of bread in the toaster making sure it turns golden brown in colour. It needs to be toasted enough so it doesn't go soggy when you spread the Flora on it. Cut the crusts off the toast and then slice into 6 strips, so that the width could easily be dipped into the Creme Egg.

5

Place the plate with the Creme Egg bottom in the Microwave for 5 seconds to make the Goo all nice and Gooey. Ensure that the egg retains it shape ie the chocolate isn't too melted to sit in the egg cup.
14.5%

13.9%

23.5%

10.0%

30.7%

% of your Guideline Daily Amount (GDA). To be enjoyed as part of a healthy, active lifestyle.

TYPICAL VALUES PER SERVING
Treat your inbox
Want to know about all the latest goodies from Cadbury? Sign up and you'll be the first to hear about exclusive offers, new delicious chocolate treats, gifts and more.
Sign up